January 20, 2015

"De Amsterdamse Krulletter", an exhaustive research about the Amsterdam's Curly Letter by Ramiro Espinoza and Rob Becker will be published by Lecuris.nl in April. Stay tuned for news about the book presentation. Click here for more information.
January 13, 2015

Our friend Donald Beekman from Studio DBXL has designed with our font Krul a beautiful campaign for Mooie Noten, Amsterdam's singer-songwriter competition. Great job, Donald!
January 5, 2015

We have been experimenting with our friends of BunkerType with a wood type version of Kurversbrug, the revival of Amsterdam's bridge letters. We chose a fragment of a famous poem by Jan Campert ("Een Amsterdamsch lied") and with it a poster in the spirit of The Amsterdam School avant-garde was designed and printed. Stay tuned, the poster will be made available soon.
November 23, 2014

Our typeface Laski Slab has been generously featured in the Japanese magazine Typography #6. It's a well designed publication with a careful selection of recently published typefaces and related news on typography. Thanks a lot to Yuko Miyago and his team.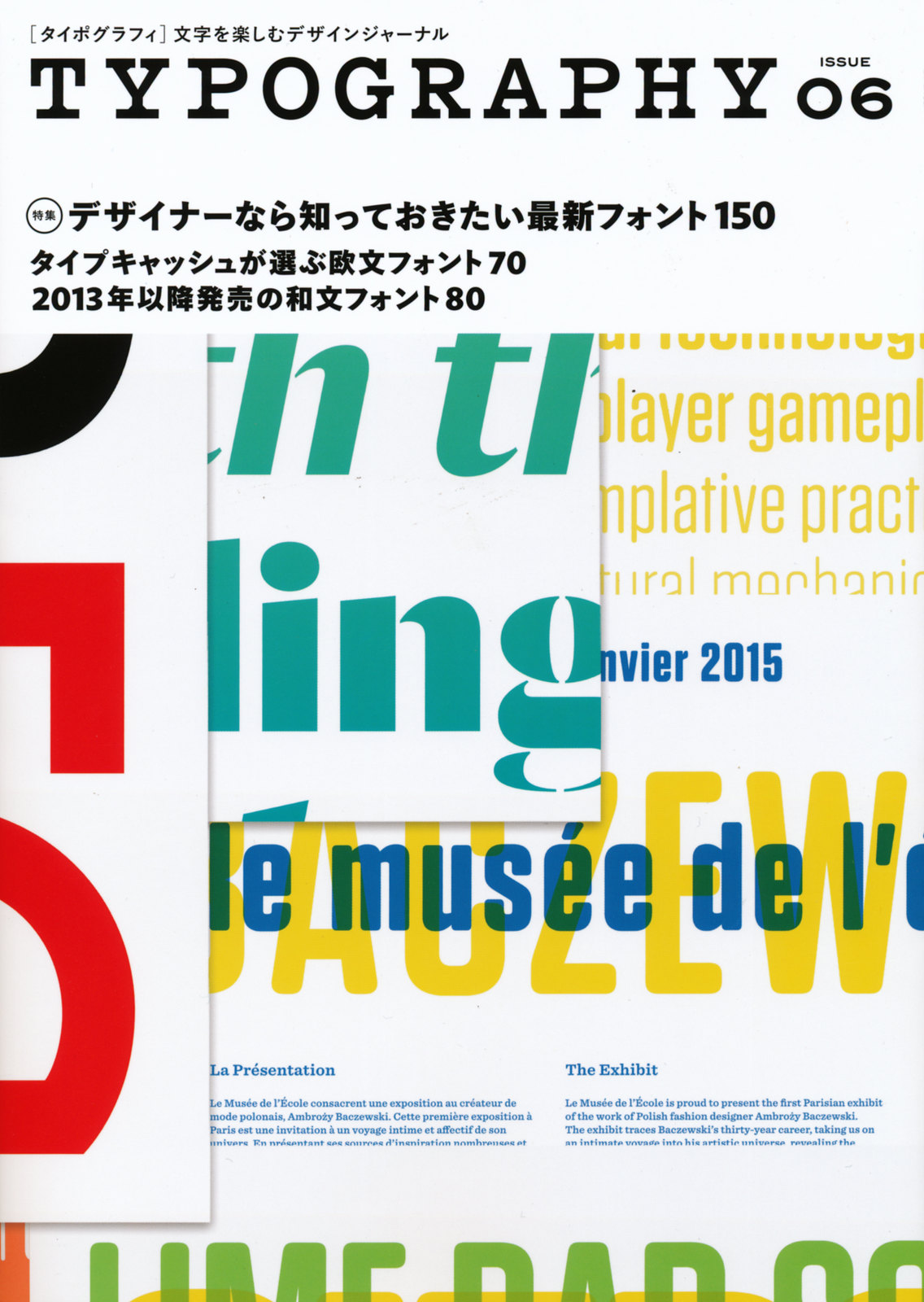 November 18, 2014

With our colleagues from Bunker Type we are planning a wood type version of Kurversbrug. Soon this new incarnation of the Amsterdam's bridge letters (brugletter) will be ready and a set of posters dedicated to the city will be printed with them. Stay tuned for more news!
November 15, 2014

Few months ago we shared here some outstanding posters Richard Wolfströme designed with our Kade typeface. Now he has employed Laski Slab to design Here and Now, a magazine for The Academy of Urbanism. We think it is a beautiful piece of editorial design and we are glad our type family is playing an important rol in it. As always, thanks Richard for sharing your work with us.
November 13, 2014

As every year the Bijzondere Collecties department of the University of Amsterdam is organizing the Type Amsterdam event. In this opportunity, the lectures will delivered by: Nina Stoessinger, Sébastien Morlighem, Huda Smitshuijzen AbiFarès and Ron van Roon.
You can subscribe in this webpage, but don't wait too much since the venue has a rather limited capacity.
November 13, 2014

Thanks a lot to the staff of Slanted Magazine for featuring our Laski Slab family in the "Contemporary Typefaces" section.
November 11, 2014

On this Sunday 16 of November there will be a workshop organized by TypeCrit Amsterdam and hosted at the Grafisch Werkcentrum Amsterdam oriented toward creating custom 3D printed block letters. It will be a very good opportunity to learn more about letterpress printing and use the equipment kept in the workshop. Don't miss it!: http://www.meetup.com/TypeCrit-Amsterdam/events/208205692/
November 2, 2014

Kurversbrug – our interpretation of the idiosyncratic alphabet found on the bridges in Amsterdam – was the first type family released by Retype back in 2007. From the onset the Kurversbrug typefaces were very well received, and have been applied in countless design projects, websites and advertising campaigns. Even the Amsterdam municipality started using Kurversbrug in a new series of bridge nameplates. This made us realize a revamp of the family was necessary, so we began work on expanding the fonts and amending some details.
Today we are proud to present the new Kurversbrug type family, with four extra weights (Book, Bold, Fat and Stencil) more than doubling the family's size. Language coverage was expanded to support all European Latin scripts. We also included alternate character shapes for 'W' and 'Y' that are faithful to the historical source of inspiration for the design.
We are confident these additions will greatly improve the Kurversbrug family, offering exciting new possibilities to designers interested in the noble tradition of the Dutch avant-garde.