April 11, 2015

After several years of research, the book over De Amsterdamse Krulletter (The Curly Letter of Amsterdam) by Ramiro Espinoza and Rob Becker, has been published and it's available at Lecturis's webshop. For those who are curious about the book and want to see how it looks, we have created a Behance's project.
Hopefully the pictures and information contained in this book will renew public's interest in Amsterdam's traditional sign painting tradition and inspire a new generation of letterschilders.
March 13, 2015

Kerning fonts is a tiring activity that can put a big stress on your extremities. Following the advice given at Robothon conference by Andy Clymer, we are experimenting using MetricsMachine and an USB's game pad with the help of the universal driver USB Overdrive. It works like a charm. We specially like to have a handy way to flip the selected pair when checking kerning symmetry. The next kerning work at Retype is much probably going to be performed with this method.
February 21, 2015

'De Amsterdamse Krulletter' files have been delivered to the publisher and the book will be available approximately in one month. The book will be presented on 8 of April at the Bijzondere Collecties's building in Amsterdam.
February 14, 2015

Le Guess Who is a music festival for independent music such as noise rock, indie rock, IDM, held in Utrecht, Netherlands. Some months ago they began using Kurversbrug as its main typeface for posters, website and their Treasure Guide publication. All designs by Loudmouth.
January 20, 2015

"De Amsterdamse Krulletter", an exhaustive research about the Amsterdam's Curly Letter by Ramiro Espinoza and Rob Becker will be published by Lecuris.nl in April/2015. Stay tuned for news about the book presentation.
Click here for more information.
"De Amsterdamse Krulletter" can be purchased following this link
January 13, 2015

Our friend Donald Beekman from Studio DBXL has designed with our font Krul a beautiful campaign for Mooie Noten, Amsterdam's singer-songwriter competition. Great job, Donald!
January 5, 2015

We have been experimenting with our friends of BunkerType with a wood type version of Kurversbrug, the revival of Amsterdam's bridge letters. We chose a fragment of a famous poem by Jan Campert ("Een Amsterdamsch lied") and with it a poster in the spirit of The Amsterdam School avant-garde was designed and printed. Stay tuned, the poster will be made available soon.
November 23, 2014

Our typeface Laski Slab has been generously featured in the Japanese magazine Typography #6. It's a well designed publication with a careful selection of recently published typefaces and related news on typography. Thanks a lot to Yuko Miyago and his team.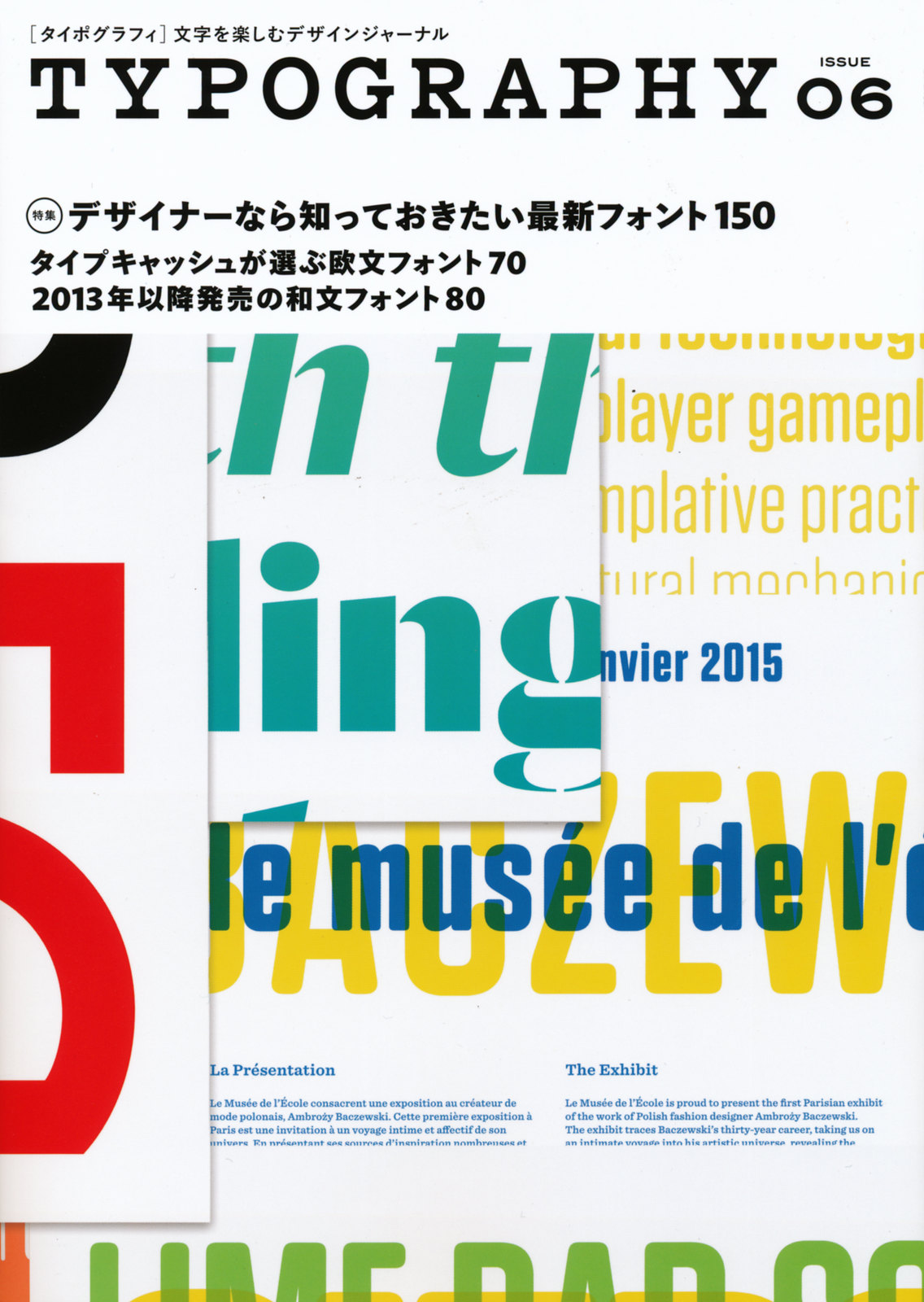 November 18, 2014

With our colleagues from Bunker Type we are planning a wood type version of Kurversbrug. Soon this new incarnation of the Amsterdam's bridge letters (brugletter) will be ready and a set of posters dedicated to the city will be printed with them. Stay tuned for more news!
November 15, 2014

Few months ago we shared here some outstanding posters Richard Wolfströme designed with our Kade typeface. Now he has employed Laski Slab to design Here and Now, a magazine for The Academy of Urbanism. We think it is a beautiful piece of editorial design and we are glad our type family is playing an important rol in it. As always, thanks Richard for sharing your work with us.